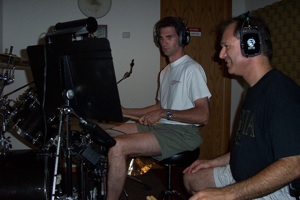 My teaching philosophy is based on educating the student on the proper techniques for efficient movement behind the drum set. I structure lessons in three fundamental areas:
**Hand development techniques
**4- way independence
**Reading drum notation as a learning tool
Having excellent technique is the key to smooth and tension free execution. All facets of this, including finger control, free stroke, and the Moeller Method, Gladstone Method, along with the development of 4-way independence are integrated onto the drum set. Students quickly gain confidence as they see their speed, timing, independence and creativity increase.
Learning how to interact these techniques with other musicians in a band setting, anchoring the rhythm section, and playing with a click track are also reinforced.
Once fundamental techniques are mastered, students begin to explore their creativity in specific areas that are of interest to them.
A teaching curriculum is tailored to each individual student.